Startup Leadership Training
Start Date : July 19, 2014
End Date : July 19, 2014
Time : 1:00 PM to5:00 PM
Phone : 415-937-8999
Email : classes@startupsaturdays.net
Location :
567 Sutter St, San Francisco, Ca- 94102
Description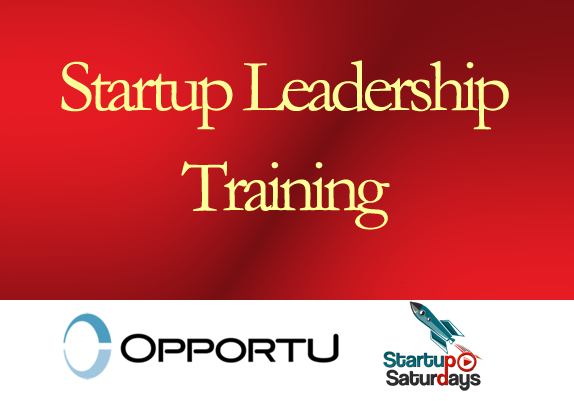 ---
Audience: This workshop is for entrepreneurs: founders of startups and early growth companies and their teams.
---
Whether a startup succeeds or fails is not just about having a great product or finding a niche in the marketplace – often it comes down to how well the founders and senior team members lead the company.  Your startup is too important to just wing it when it comes to leading the charge.  The challenges faced by entrepreneurs are tough and unique - everything is new, from the business idea down to the team itself.  
This workshop focuses on how to deal with the specific leadership challenges faced by key players in startups and early growth companies; it is designed especially for individuals who run or are part of a small, high-level team: co-founders, C-level, VPs, Directors, etc.
How ready are you to embark on this new venture?  And why should you go it alone when there are expert resources at your fingertips?
---
In this workshop you will learn about the development phases a startup goes through, common challenges and roadblocks that happen during each phase, and the leadership tools you need to break through to entrepreneurial success: Clarifying Your Company Vision and Values, Strengthening Your "Big Idea", Successful Team Selection & Building, Creating a Compelling Message and Pitch, Nuts and Bolts, and Defining Success. This workshop is ideal for entrepreneurs and business leaders who want to set themselves up for startup success. Attendees of this workshop will participate in interactive learning exercises and will be rewarded with tangible skills and knowledge that they can apply right away.
The Startup Leadership Workshop is co-sponsored by Startup Saturdays and Opportu Professional Coaching, both based in San Francisco.  The presenter is Opportu's founder, Hilary Weber, Haas MBA alumnus and Certified Professional Coach.  Hilary Weber, an entrepreneur, 20-year corporate leader, Haas MBA and seasoned coach.  She uses a creative yet diagnostic approach that enables business executives and their teams to: 
•Take self-leadership, collaboration and performance to new levels as individuals
•Foster and sustain innovative thinking, synergy and goal alignment as a group
•Increase their positive impact inside and outside of the larger organization
Acting as a business ally and strategic partner, Hilary works with large, established organizations and early growth start-up companies, focusing on behavioral and emotional drivers, effective communication and connections, and converting obstacles into opportunities – and delivering significant, measurable results.  She has presented at numerous conferences and other venues across the United States, has published multiple articles in print and online, and is writing her first book.
---
---
How to Register:
A. Please sign up on eventbrite:
http://startupsaturdays.eventbrite.com/
B. If you are already on Eventbrite then please select the number of tickets you would like to purchase from above.
C. If you have an employer sponsored education program then please contact us at: classes@startupsaturdays.net
We can work with various reimbursement and employer sponsored educational programs.
Early Bird Special: Please check our eventbrite site for the early bird specials.
~~~
Startup Saturdays - Complete Listing
http://startupsaturdays.eventbrite.com/
~~~
Some useful links:
Organized by
Event Tags: Angel, boot camp, branding, career, career coaching, coaching, google events, leadership, Leadership training, motivational events, Networking, nlp, NLP training, Oracle Events, personal growth, primal leadership, private equity, professional, professional coaching, professional development, Starting a business, success, team, team building, VC, Venture Capital, and work force development.